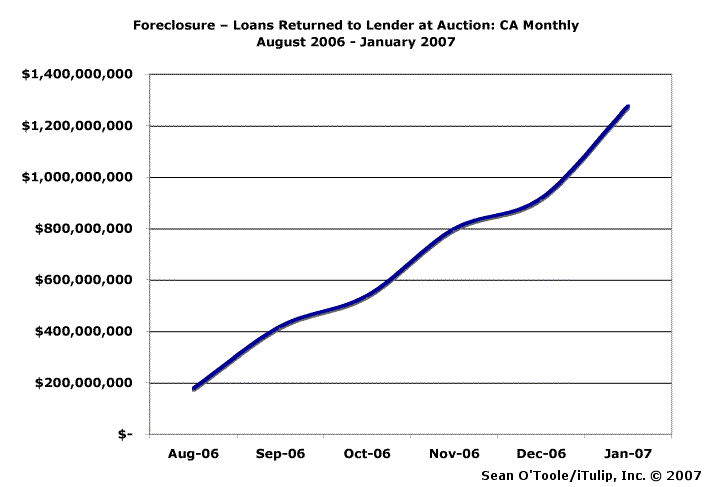 When Robert Toll says "we're dancing on the bottom" of the housing 'correction',
take a look at what the real data says about the industry outlook- don't call it a "bubble" or you get labeled 'unaware that housing consists of a series of regional housing markets.' Yeah, and that problem of no-doc ARMs was regional too.
Number of Foreclosed Homes Returned to Lenders at Auction up more than a factor of 10 since July 2006
by Sean O'Toole

Coming 4th Quarter Foreclosure Activity Reports and their implications for housing, lending institutions, and the economy. The last credible data that was widely published on foreclosure activity in the US was by DataQuick on October 18, 2006 for the 3rd quarter. Most of the reports you have read in the press since then about foreclosure and its implications for housing, sub-prime lenders, asset backed securities, and the economy in general were based on that report.

On one hand, the report was alarming.

For Q3'06, CA foreclosures were up 111.8%

from Q3'05 and 28.3% from the prior quarter. Despite this strong upward trend, most articles invariably followed up this data with a statement such as: Foreclosures are still at historically low levels, and the effect on today's market is negligible.

When DataQuick says "historically low levels," they also disclose that they've only been tracking foreclosures since 1992, a key fact that many folks who use DataQuick's data don't know is very important.

The reason that the start date of comparable foreclosure data for the last cycle is so important is that about two years after the last housing cycle bottom, foreclosures were already declining. If housing were indeed in the process of "bottoming out" now, as many forecast, then foreclosures should be starting to decline now. Instead, they are rising rapidly.

Note the DataQuick data also show that foreclosures peaked in Q1'96, which correlates reasonable well with the bottom for the housing market. Foreclosures do not appear to be peaking, so it is unlikely that the housing market is near a bottom, yet.

As such it appears that DataQuick's data spans a period of time that began during a period of increased foreclosure levels in the last cycle. As a result, we don't have a clear picture of comparable foreclosure rates for the housing cycle period we are in currently compared to the last cycle, so no one can say whether current levels are "historically low" or not. Even if they are, that may well be a sign of a market peak rather than a bottom, implying further market volatility rather than market stability as usually inferred from the data.



In the coming weeks, as we see the Q4'06 foreclosure report released, it will be interesting to see how easily apparently alarming data can again be brushed aside as insignificant for the housing market, lending institutions, hedge funds and the economy.

Unfortunately, due to a lack of sufficient historical data, and lags in current foreclosure data, I suspect this will the case.